Charcoal ice cream is just the beginning. Photo: Bobboi Natural Gelato
Classic vanilla, chocolate, strawberry and cookie dough may be safe choices when it comes to cooling off on a hot day, but some vendors have taken their ice cream flavors to the next level. Many of these unique flavors and combinations are worth a try among dessert fans, while some seem reserved for only the most adventurous ice cream lovers.
From wasabi flavored ice cream in Japan, to potato ice cream in Idaho, and even a Hunger Games themed flavor topped by a real scorpion (Yes, a real scorpion!), these frosty treats are off the charts with their creativity. Branch out from the basics with these unique, wacky flavors.
While you may have heard of charcoal face masks or charcoal teeth whiteners, it's probably unlikely that you've heard of charcoal ice cream. Bobboi's Natural Gelato of San Diego has found a way to infuse activated charcoal into ice cream, and we're more than intrigued. Monica Maccioni, the gelato chef behind Bobboi's, even went to university in Italy to master the graft of gelato. Now, Maccioni has brought her gift to San Diego, utilizing local ingredients to produce both traditional and unconventional flavors.
Max & Mina's Ice Cream in Flushing, New York is known for its wide variety of crazy flavors. They even provide several tastes based on some of the most popular children's characters, like Spongebob and Cookie Monster. One of their wildest flavors, though, is 'Corn Cookies 'n Cream,' a farm-style, corny twist on traditional cookies 'n cream ice cream. If you're really looking for an out-of-the-box ice cream experience, you might look into booking a trip to Flushing.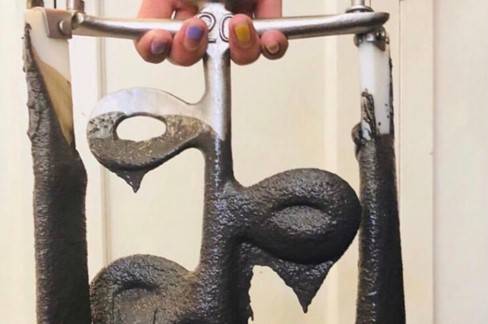 Ted & Wally's in Omaha, Nebraska pride themselves on providing 20% butterfat ice cream that's made-from-scratch using natural ingredients by slow-churning the old-fashioned way. One of their most interesting flavors includes Squid Ink, a Japanese-inspired flavor that's actually infused with squid ink to give it that dark color in addition to a rare taste.
If you ever happen to find yourself hungry in Nice, France, make a stop at Fenocchio, where you will find a beautiful selection of flowery and refreshing ice cream and sorbet flavors. Lavender jasmine, tomato, basil and cactus ice cream? Sign us up! If you're looking for something a little more solid, Fenocchio also offers frozen cakes, and yes, they still have unique flavors (such as 'Pear Cacao', which includes sorbet pear, sorbet cacao, ganache and chocolate).
Nope, not an actual margherita pizza (although we could definitely take a slice of that right now). It's margherita pizza flavored ice cream from FrozBroz in Minnesota. Using actual ingredients from the pizza, including cherry tomatoes, mozzarella cheese and fresh basil, the geniuses behind FrozBroz have discovered a way to transfer flavor over two, very different courses. Essentially, having a scoop or two of this flavor basically counts as dinner, right? We'll let you decide.
The Creole Creamery in New Orleans isn't afraid to spice things up. With a wide variety of both signature and seasonal flavors, this ice cream shop is a hit with both locals and tourists. They even have over 700 hundred listed competitors for their 'Tchoupitoulas Challenge' - a challenge in which the ice cream enthusiast must complete a sundae of eight scoops and eight toppings all on their own. Their Tres Leches Sundae consists of Salted Caramel ice cream, tres leches cake and Fireball Whiskey caramel. Leave it to New Orleans to offer an ice cream that includes a taste of Fireball!
The Wasabi Farm in Azumino, Japan has discovered an innovative way to incorporate the spicy sushi supplement of wasabi into a sweet treat. The ice cream provides a contrast between tangy and tart. Lovers of all things spice, we've found the dessert for you!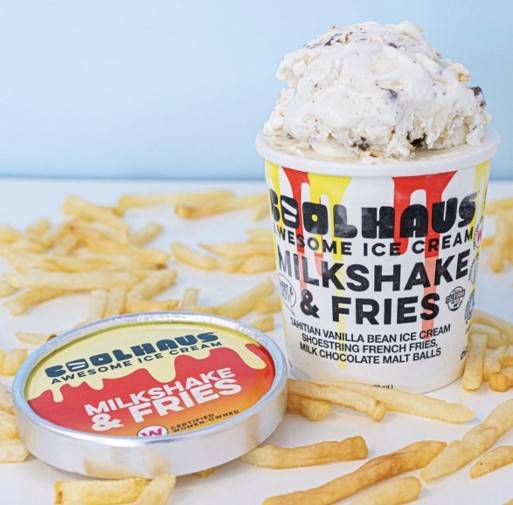 You could order fries to dip in your milkshake… Or, you could save the hassle and money by ordering a scoop of CoolHaus' 'Milkshake & Fries' ice cream. CoolHaus, based in Los Angeles, is a woman owned company that offers both dairy and non-dairy ice cream products, ranging from classic pints to cookie sandwiches. Their delicious products can be found in grocery stores nationwide, but for the premium frozen dessert experience, you can visit their scoop shops in either Culver City or Dallas.
Potatoes are pretty much good for anything, whether they come mashed, baked, as fries or chips and… even ice cream? That's right, at the Westside Drive-In in Boise, Idaho, you can purchase this potato-shaped ice cream that's topped with 'sour cream'. If you're really into Idaho culture, this seems like a must. According to travel blogger Michael W, the dish isn't actually a baked potato...though it quite closely resembles one. The 'potato' is just vanilla ice cream covered in cocoa powder, topped with whip cream made to look like sour cream and placed in a plate of chocolate syrup. Hard to believe, but certainly enticing enough to want to try!
The Ice Cream Store in Rehoboth Beach, Delaware contains a long list of controversial and outrageous ice cream flavors: 'Crack', 'Better Than Sex', and 'I Don't Give a Fork' to name a few have been three of their most popular flavors. Another one of their best known options? Catching Fire, based on the Hunger Games series. The flavor consists of orange colored African Vanilla ice cream with orange juice, mango and a strawberry swirl, topped off with none other than a real scorpion! Order with caution.
Enjoy Your Own Local Ice Cream Adventure
You may find some of these exotic ice cream flavors more appealing than others, but we hope we've piqued your curiosity to discover new dessert options the next time you go out. The biggest question is where to head first. Well, how about everywhere? You can explore every major ice cream parlor in town--as well as all of the city's best restaurants--in one trip with TastePro.
Dine at multiple restaurants over the course of a single meal, where you'll enjoy exclusive tasting menus of signature dishes at each place. Flexible arrival times, tax and tip included with every booking and drink specials up to 60% off standard menu prices are just a few ways we transform ordinary meals into Phenomenal Dining Experiences.
Whether you're visiting a new place or exploring your own backyard, TastePro is The Best Way to Try New Restaurants. Book your walkable, self-guided food tour today at GoTastePro.com