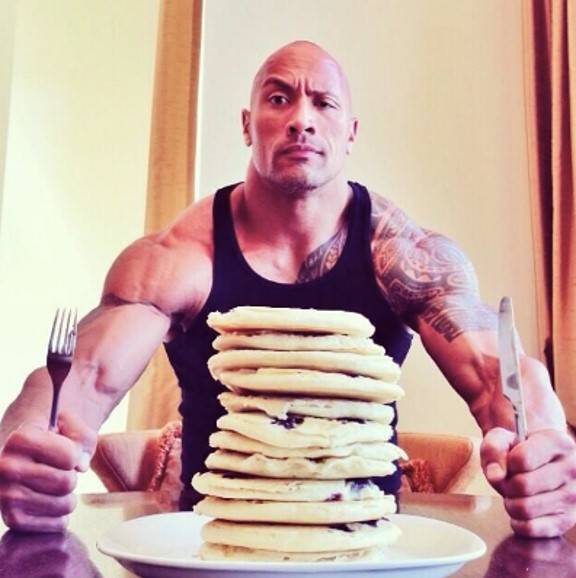 Dwayne Johnson enjoys a cheat day of his own. Photo: Dwayne Johnson
From supermodels to movie stars, all kinds of celebrities enjoy cheat days on a routine basis
When celebrities have their cheat days, most of them don't want anything fancy.
Cheat meals are not necessarily bad. Enjoying them in moderation can reduce overall cravings and help celebrities, and the rest of us, maintain a more balanced diet
According to ELLE, Gigi Hadid has the most brilliant dieting mantra ever: "Eat clean to stay fit, have a burger to stay sane." This philosophy is shared my many A-listers out there who have boarded the cheat day train.
It's good to know that stars are just like us: real people who love to eat unhealthy food too. Breaking your healthy eating habits is actually recommended by Men's Health nutrition advisor Alan Aragon, and according to nutrition experts, cheating in moderation will make you less likely to binge eat and help you maintain a healthy relationship with food.
Learn how these celebrities and top models use cheat meals to stay on track and the indulgences they crave.
A cheat day is when you allow yourself an entire day of eating anything you want without counting calories or watching what you eat. It's something to look forward to, like a reward for being healthy and staying on track with your diet. Also, it helps to keep you from constantly feeling deprived.
There's no specific guideline for cheat days. Some celebrities may indulge on a cheat day after filming for a movie or keeping to a strict diet for a part. Others, like Dwayne Johnson, celebrate a weekly set cheat day. And many in between may just treat themselves when they feel like having a cheat meal from time to time.
Legendary personal trainer Jillian Michaels, known for her work on the hit show 'Biggest Loser' and A-list clientele, is not a big fan of the "cheat day" concept, but believes that cheat meals can work from time to time. With some of her clients, she recommends adding cheat food to their regular diet, to avoid going over-the-top on their overall calorie intake.
If you need some inspiration for your next cheat day, here's what some of your favorite celebs are diving into.
Johnson is known for his iconic movie roles and extreme workouts, but also takes his weekly cheat days very seriously. On The Tonight Show he even compares his epic cheat meals with going to church because "you work out hard and, once a week, you treat yourself." Fun fact, cheat days are something he prefers to do alone around midnight after his family goes to sleep. "I'm like a troll," he says.
Even supermodel Cindy Crawford doesn't want to miss out on her favorite desserts like ice cream and chocolate. According to PEOPLE, her motto is "I work out, I eat – I always say 80% good, 80% of the time 'cause that's achievable."
The supermodel, Victoria's Secret Angel and mother of four can still rock the runway. How does she still look so good? Besides being super fit, she strikes a balanced diet. Burgers, pizza and cake are her favorite cheat meals, with balance being key.
The retired NFL star and Co-Host of 'Good Morning America' loves a good cheat night. Nothing fancy, just good old-fashioned comfort food which he shared on his Instagram "Nothing like some home-cooked mac n cheese." Besides, his Sundays are reserved for football and cookies. According to People he loves to indulge "I love New York because you can get anything, anytime. I enjoy it all: great burgers, amazing Italian food. Babbo is one of my favorite restaurants. Look at me - I don't turn down meals."
A-Rod isn't sorely tempted by sugar. He loves salt and is a big fan of Cheetos and any kind of chips. He also broke his strict diet that he followed with his fiancé Jennifer Lopez by indulging in all his favorite foods. As you can see, he didn't hold back and chowed down on pizza, French fries and chicken wings.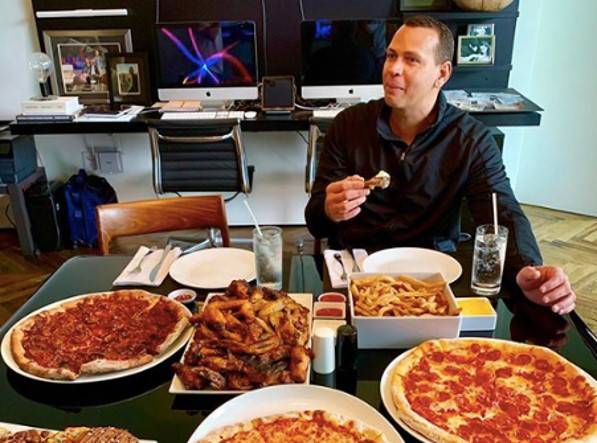 People Magazine's former Sexiest Man Alive 2014 is also just like the rest of us when it comes to decadent cravings. While he does try to stick to clean food most of the time, he also has his cheat days. "Cheat days are pizza, hamburgers, beer, sugary things. Everything I'm not allowed to have!" he says
Despite following a strictly healthy diet, Katy Perry's weekly cheat days are dedicated to her true love – burgers especially from In-N-Out. At the Golden Globes, she got a round of In-N-Out burgers for everybody at her table. Even though she's on a meal plan, she makes sure to not miss out on her favorite meal. "...on Sundays I get to have a cheat day where I go buck wild and eat In-N-Out Burger." At the 2019 Met Gala, Katy Perry spread the burger love by getting dressed up for the after-party as a hamburger. If that's not a true burger fan?
Even though she got into great action hero shape, the famed actress still loves to treat herself and eat her favorite foods . Biel has a cheat day at least once a week. When it comes to cheat days her motto seems to be "go big or go home". As she told Instyle, "A big cheat day in my world is very full on. When I'm going for it, I'm going for it. I'm going to have a million cups of coffee in the morning, then it's going to be wine for lunch, pasta for lunch. There's going to be another aperitif after lunch and a dessert and then probably more coffee. That's not all! And then a dinner that's going to last for a million hours that's just pasta, pasta, pasta, maybe an affogato (a coffee-based Italian dessert), maybe another pasta. A lot of wine. More after-dinner drinks. Just really go for it."
Chris Pratt has made an outstanding body transformation from his Parks and Rec days as chubby Andy Dwyer to his slimmed down, ripped body as seen in Guardians of the Galaxy. But even superheroes need some rest and junk food on occasion. As he shares his cheat day routine with Complex, "I give myself a three-hour window and just do as much damage as I can. I'll plan for it. Usually it'll be something real sweet and carb-y: pancakes, pizza, cheese—because I try to stay away from dairy—ice cream Drumsticks, fried chicken, all the good comfort food."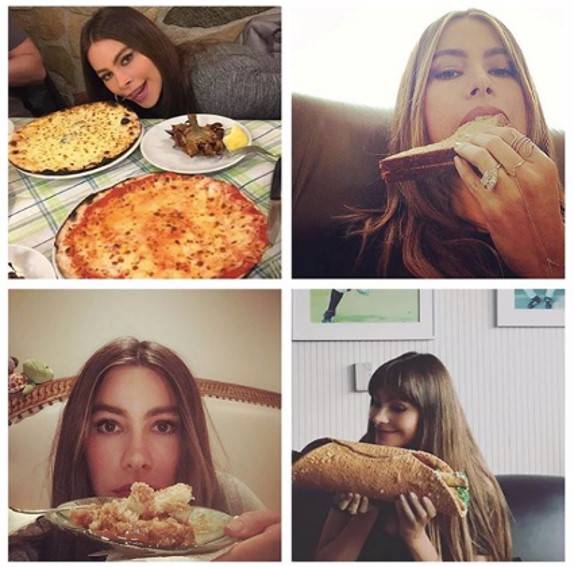 Sofia Vergara and her husband Joe Manganiello love a weekly cheat meal. Vergara tries to keep it clean during the week by eating a lot of fruits and vegetables but on the weekend, she eats whatever she wants. "I love healthy eating, but I also love dessert," she told The New York Times. "I don't go too crazy during the week. But on the weekends, I completely order whatever I want." And that could be anything from pizza, tacos, cakes or large pancakes.
American actress Hilary Duff tries to stick to a healthy diet most of the time, but she still likes to indulge every once in a while. Duff shared with her fans via Instagram about how she was getting McDonald's right after her workout because she was really hungry. While getting her cheat meal she dropped an interesting fact: "They say you have like 45 minutes to burn through whatever it is you eat after your workout, so, I'm getting McDonald's. I'm very excited." But she also mentioned that this isn't her usual post-workout meal. Usually she opts for healthier options.
For the most part, she gets a cheat meal at lunchtime. "I'll usually eat a salad and possibly some French fries," Hilary Duff told Us. "Gotta be a little naughty!"
Plan your next cheat day with TastePro
Does seeing your favorite celebrities eating like this give you a hankering for something indulgent? There's no better way to capitalize on a cheat day than with TastePro, where you satisfy all your cravings in one spectacular meal (don't worry, we have healthy options too!)
Dine at multiple restaurants over the course of a single meal, where you'll enjoy exclusive tasting menus of signature dishes at each place. Flexible arrival times, tax and tip included with every booking and drink specials up to 60% off standard menu prices are just a few ways we transform ordinary meals into Phenomenal Dining Experiences.
Whether you're visiting a new place or exploring your own backyard, TastePro is The Best Way to Try New Restaurants. Book your walkable, self-guided food tour today at GoTastePro.com