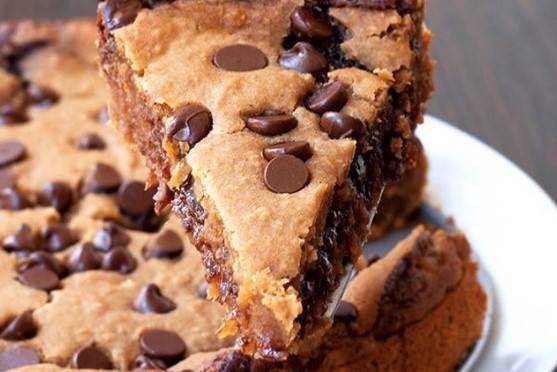 Gooey chocolate chip cookie pie. Photo: Chocolate Covered Katie
Eating vegan has been a rising diet trend for the last few years. More and more restaurants are offering plant-based options, making plant-based choices easier and easier even for people who don't consider themselves vegan or vegetarian.
There are a lot of reasons why people want to include more plant-based foods in their diet: animal welfare, environment impact and personal health to name a few. According to a study published in the Journal of Nutrition, following a plant-based diet can lower the risk of heart disease, type 2 diabetes, high blood pressure and certain types of cancer.
The vegan diet is definitely different from the standard American diet, and even if you're looking to stick with meat and just go plant-based every once in a while, the task may still seem pretty challenging. After doing a little bit of research, however, you'll be pleasantly surprised to find that delicious plant-based options exist for vegetarians and carnivores alike.
If you're considering going vegan, are already vegan, or are simply looking for plant-based meal options to cook on a Meatless Monday, a great place to start is this list of vegan food blogs. You'll find many easy and delicious vegan meals, desserts and so much more.
To make it a little easier, this list contains some of the best vegan blogs, as well as some vegan-friendly food blogs to refer to, whether you're searching for a specific recipe or just want to try something new.
These vegan food blogs met three crucial criteria to be on this list:
Their recipes should be easy to follow -- no fancy ingredients
They should appeal to the everyday eater, not just strict vegans
The dishes must taste good...obviously!
From comfort food to healthy vegan recipes and even vegan desserts – we've got you covered.

If cooking or baking vegan sounds intimidating, The Minimalist Baker by founder Dana Schultz is an incredible resource. Although it's not an exclusively vegan blog, it has plenty of vegan cooking and baking recipes that you can choose from. Browsing through her site is super easy since she gives readers the option to filter out her recipes based on a variety of preferences: vegan, vegetarian, gluten-free, dairy-free, refined sugar free, soy free and nut free. So if you have any food allergies, she's got you covered.
Most of the Minimalist Baker recipes are no more than 10 ingredients, can be made in one bowl, and even take under 30 minutes to make! Aside from simplicity, all her recipes just look amazing, so you'll definitely find one you'll want to try. Even if you're already familiar with vegan recipes, this blog is a go-to resource because it has all types of entrees, desserts for all seasons and savory snacks of all kinds.
Bad Manners, formerly known as Thug Kitchen, is a plant-based blog with easy to follow and surprisingly tasty recipes. Their recipes are so good that you won't even miss having dairy or meat in. Their blog took off when Gwyneth Paltrow mentioned them, saying it "might be my favorite thing ever." They keep it real and named their first cookbook and New York Times Best-Seller after their motto "Eat Like you Give a F*ck." It's easy to incorporate more veggies into your diet with their tasty recipes.
On their website, you can filter the recipes to find your preferred meal type or even key ingredients like chickpeas or potatoes. From beer cheese sauce to blueberry almond muffins, there is a great variety of recipes on Thug Kitchen.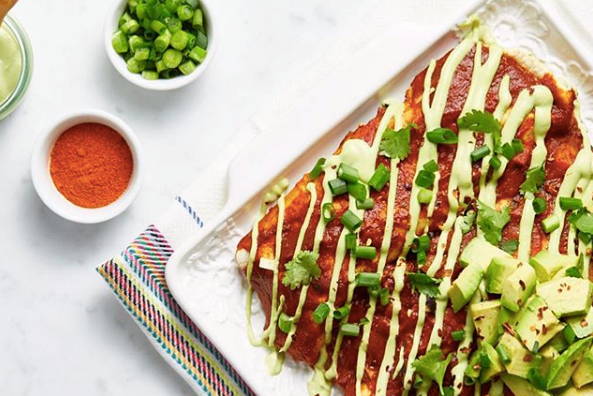 Oh She Glows is a go-to if you love healthy food and care what you put in your body. The founder's motto is 'Glow from the inside out.' Most of the recipes have green veggies in them (hello, healthy glow!) and help you eat the rainbow. Also, her recipes are quite easy to make, and don't include any overly processed vegan alternatives or too weird ingredients that you need to get from a health food store in order to make these recipes.
Her sauces and dressings are especially flavorful, making every dish taste gourmet. Recipes are easy to prepare with simple ingredients, healthy with a whole food focus and not time-consuming, making them perfect for moms or dads in a rush.
Kathy Patalsky, creator of the popular vegan food blog Healthy Happy Life, makes sure eating vegan is fun and tasty. The flavor-packed recipes on her blog look so delicious, even for converted meat lovers. Her recipes are simple but creative. Each dish looks bathed in California sunshine with healthy, fresh, and colorful ingredients.
For the most part, the recipes are no-fuss with short ingredient lists. Healthy Happy Life is a great resource when it comes to nutritious and hearty plant-based meals, from comfort food to snacks and desserts. If you need some inspiration for vegan meals, make sure to visit her blog.
If you're struggling with plant-based dessert options, this blog will be your new vegan dessert bible. Chocolate Covered Katie is all about the sweets, real desserts not your typical granola bar vegan "dessert." From dairy free ice cream, fluffy cinnamon rolls, different kinds of banana bread, mouthwatering chocolate layer cake and chewy chocolate chip cookies, there is enough that will satisfy your sweet tooth. Once you try one of her recipes for yourself, you'll forget they're even vegan. The only problem with this blog is not knowing which recipe to try out first!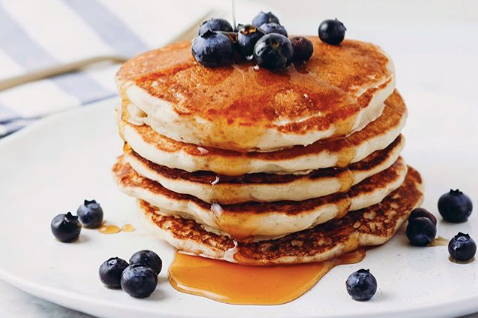 Liv creates fabulous vegan dishes that are visually stunning and will please even the most devout meat eater. It's Liv B specializes in lazy day meals that you can make in just a few minutes. All her recipes can be made from scratch very quickly and easily. Her vegan chocolate chip cookies recipe is one of the best cookie recipes that you will find, vegan or not. You also might want to try out her fluffy vegan buttermilk pancakes, vegan cinnamon loaf or her one pot vegan Mac & Cheese recipe.
Book a Walkable, Self-Guided Food Tour with TastePro
If these dishes sound good but you're still not up for cooking yourself, you can explore all the best plant-based dishes in town (and all the non-plant-based dishes in town, for that matter) with TastePro.
Dine at multiple restaurants over the course of a single meal, where you'll enjoy exclusive tasting menus of signature dishes at each place. Flexible arrival times, tax and tip included with every booking and drink specials up to 60% off standard menu prices are just a few ways we transform ordinary meals into Phenomenal Dining Experiences.
Whether you're visiting a new place or exploring your own backyard, TastePro is The Best Way to Try New Restaurants. Book your walkable, self-guided food tour today at GoTastePro.com