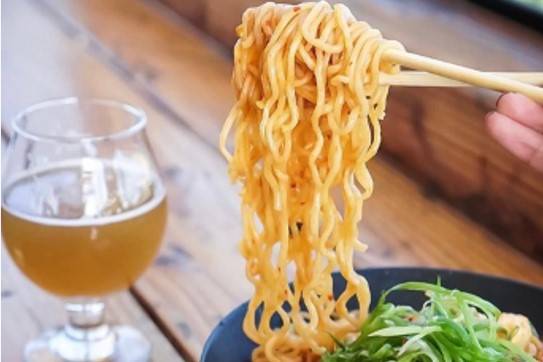 With so many different accounts on Instagram, let alone food accounts, it's difficult to decide who to follow. A lot of them have huge followings and professionally-shot photos to give you those mouth-watering images on your feed. It's a little more difficult, however, to find quality food accounts in your area that will give you some great restaurant ideas for your next dinner out. Don't worry though, we've done the hard work for you and rounded up some of the best SoCal food Instagram accounts that you need to hit follow on ASAP.
San Diego Foodies has a smaller following than most popular food accounts, but that doesn't mean their photos are any less stunning. The photos are shot by Christopher Stone, a food content creator and marketer. Christopher's posts take you all around the San Diego food scene. He also posts about new dishes and openings, so you'll stay up to date on local foodie news.
If you're looking for some serious #foodporn, you need to be following Lisa's account. She posts gorgeous pictures of her meals all over Los Angeles that are definitely going to make your mouth water. Another great thing about this account is that it features a wide variety of eateries, showing us Michelin star meals as well as food truck tacos.
Four girls collaboratively run the account cleverly named after the luxury shoe brand. Although they welcome fan submissions, they post some of their own food escapades. Follow them for some classic LA dishes, scenic backdrops and adorable desserts.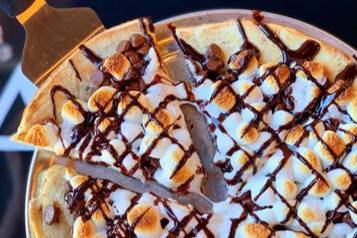 Photo: The Hungry Jessica
Jessica's photos are some of the best on the platform, in our opinion. She posts some magnificent photos of food she eats in San Diego and the rest of Southern Cal, all from her own lens. Besides the photos, she provides detailed descriptions of the dishes, so you know exactly what you're drooling over.
Kevin Noparvar shows us exactly what and how he eats some delicious food across Los Angeles. According to his Instagram, Kevin's diet consists of dramatic cheese pulls and burgers piled high with toppings. When you follow along, you not only get some decadent meals but also his humorous commentary.
Simply put, Nestor eats everything. Living in LA, he's eating some of the best dishes in the country and he has no restrictions. Everything from bagels to Banh Mi to BBQ, Nestor highlights all of the most scrumptious meals in Los Angeles. Follow @thatoneguyinla to see foods of all different cultures, but each more delicious than the last.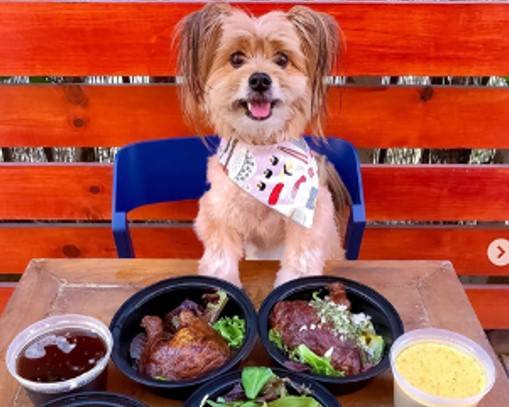 The name pretty much says it all: photos of food accompanied by an adorable puppy. It's hard to want anything more in life, so thankfully we found this account. Ryan, an avid Yelper and foodie, posts photos of his pups along for the ride as he gets some delicious meals throughout Orange County. Not only does he dine with his dogs, he takes them to some fabulous local eateries. What better way to learn about some of SoCal's best while looking at some cute little faces?
If you're a dessert fanatic, this account is most definitely for you. Nastassia Johnson is a marketing consultant as well as a full-time sweets lover. Her account is dedicated to the best desserts in Los Angeles; anything from ice cream to cookies to, of course, cake. Nastassia is the type of friend who's definitely going to be looking at the dessert menu after dinner, and she sure as heck knows what to order. Let Me Eat Cake is a must-follow, especially if you have an insatiable sweet tooth.
Enjoy Some Great Food in Real Life with TastePro
With these Instagrammers sharing some of the best spots to go, finding time to hit every spot is no easy task. But what if you were able to try a little bit of everything? You can explore some of the best food in Southern California in one trip with TastePro.
Dine at multiple restaurants over the course of a single meal, where you'll enjoy exclusive tasting menus of signature dishes at each place. Flexible arrival times, tax and tip included with every booking and drink specials up to 60% off standard menu prices are just a few ways we transform ordinary meals into Phenomenal Dining Experiences.
Whether you're visiting a new place or exploring your own backyard, TastePro is The Best Way to Try New Restaurants. Book your walkable, self-guided food tour today at GoTastePro.com