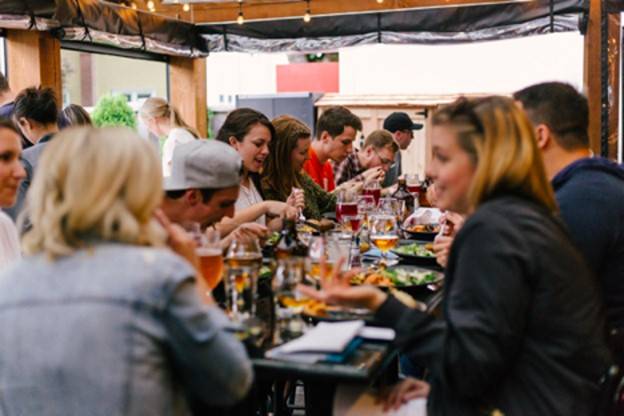 Food tours let you sample new flavors and local dishes without needing to commit the time and money needed for multiple full meals.
Food tours allow travelers to see a city through a new perspective in an efficient and unique way
Broaden your palate while simultaneously broadening your horizons, exploring hidden gem neighborhoods, restaurants, bars, and more
A new city offers endless possibilities for exploration. But when you're unfamiliar with the area, the culture and perhaps even the language, you may feel overwhelmed and have no idea where to start. Not to mention, you just reached your destination after a long journey and your stomach is growing hungrier by the minute. Where do you begin? Well, a food tour might be the perfect place to start.
Food Holds the Keys to Travel and Discovery
As legendary chef and traveler Anthony Bourdain once said, "Food is everything we are. It's an extension of your personal history, your province, your region, your tribe, your grandma. It's inseparable from those from the get-go." If you want to get to know a city -- what fuels it, what feeds it and what inspires it -- get to know its food.
Cuisine reflects culture, and vice versa. It's what feeds, fuels and inspires entire cities and their people. What, where, when and how locals dine is often a telling indication of the way of life in that specific place. For example, Spaniards often eat dinner extremely late in the evening, a practice embedded into and affected by the nuances of their daily lives. Southern style BBQ is served casually and to be shared with friends and family, reflecting a commitment to community and tradition.
Food also allows visitors to learn about local history without ever having to step into a museum or open a history book. To illustrate, the myriad of European, African, and even East Asian flavors in Brazilian cuisine paint a picture of its multicultural history, allowing the diner to venture back in time to learn about the origin of the culture with every bite of their feijoada. Moreover, the name of a traditional Chinese fried breadstick literally translates to "deep fried ghost." The way that the dish is cooked and served originates from old Chinese folktales, highlighting the importance of storytelling and food in many East Asian cuisines.
Food is one of the most enduring and tangible ways that traditions are passed down through generations, making it something that travelers should focus on whenever they go somewhere new.
A food tour is an experience in which people are able to sample dishes from different restaurants, one after another. Restaurants often offer smaller portions of their most popular or signature dishes at reduced prices. This way, diners are able to try the best dishes of a given town, city, or neighborhood without committing as much time and money to any singular restaurant.
Food tours can be guided or self-guided. In a guided food tour, a tour guide leads a small group through a lineup of predetermined restaurants, with the group typically dining together for the duration of the tour.
Most food tours are guided, but self-guided tours have been rapidly gaining popularity in recent years. Self-guided food tours provide people with the opportunity to choose which restaurants they want to sample, more control over which dishes they'd like to try, and who they wish to eat with. Self-guided tours offer more freedom for the diner in this sense, factoring into the recent widespread shift from guided to self-guided tours.
Nonetheless, food tours of any type are great options for exploring a new city, and are often recommended by seasoned travelers and diners alike!
Eating Outside of Your Comfort Zone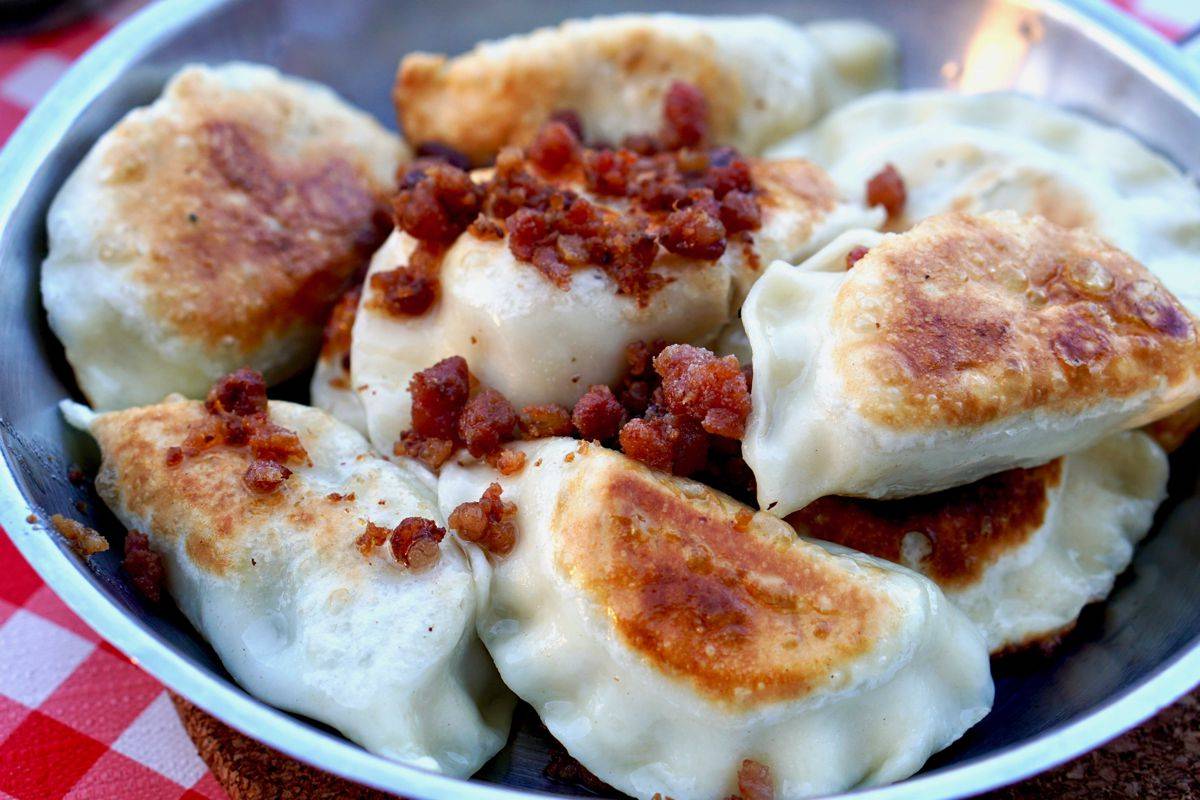 Pierogis in Warsaw, Poland
Trying your destination's local dishes is one of the best ways to experience not just the unique flavor of the dish, but the culture of the destination itself. In some cases, this means trying foods you may never have heard of before. Food tours, however, are one of the best ways to push yourself outside of your comfort zone.These culinary experiences provide unique opportunities to taste something different and off the beaten path, without having to commit the time and money to an entire meal. You can then go back for more of whatever you do like...you never know, that new dish might end up becoming your new favorite food!
Sampling ox tongue sliders in Austin, alligator po'boys in New Orleans, or raw tuna poke straight out of the Pacific in Oahu might seem intimidating. But embarking on a food tour can make sure that you have the chance to taste these dishes safely and at the best places in town. Additionally, in cities where street food is a mainstay in the local cuisine, food tours can guide you toward the best vendors when there are otherwise hundreds to choose from. Trying a stall vetted by a food tour company can ensure that you have a safe and delicious meal.
While you can likely find a McDonalds or a Starbucks almost anywhere in the world, seasoned travelers will always encourage you to eat something you can't find at home. Whether you're sampling the pintxo tapa dishes of the Northern Basque region of Spain, hunting for the best lobster sandwich in Boston, or trying out the best pasteis de nata tarts in Portugal, make sure you seek out the local specialty dishes wherever you go.
Eating local is a great way to not only support the smaller, independent restaurants in the area, but also a means of expanding your own cultural experience in the area. You'll be exposed to native ingredients prepared in traditional styles that you wouldn't know to try otherwise. Have you ever tried to make your morning cup of coffee with cardamom and saffron like they do in Saudi Arabia or tasted ice cream with purple ube taro like they have in the Philippines?
Food tours aren't just reserved for tourists visiting far-away lands either. Locals go on food tours themselves to discover new restaurants in their own backyards. Guided food tours exist across most major cities in (and outside of) the US, and self-guided food tours can be created just about anywhere.
Food tours are a great way to explore these local eateries that you probably wouldn't find by yourself. Rather than raking through hundreds of restaurants on TripAdvisor and Yelp and trying to plan your itinerary over which ones are conveniently located, within your budget, meet dietary restrictions, etc., food tours do all the heavy lifting for you.
Explore New Neighborhoods
Embarking on a food tour is a great way to not only get to know a new location, but also to embark on a new culinary adventure. Food tours can take you to hidden gems, rather than the tourist frequented bars and restaurants. Taking some time to sit at these more local bars, restaurants, and coffeeshops gives you opportunities to connect with locals. Ask them questions about their favorite places to eat in town.
Getting to know the people who create your food is a fantastic way to learn more about both the city and its food -- more often than not, locals will be more than happy to share some of their favorite parts of their hometown with you.
Experience Food in New Ways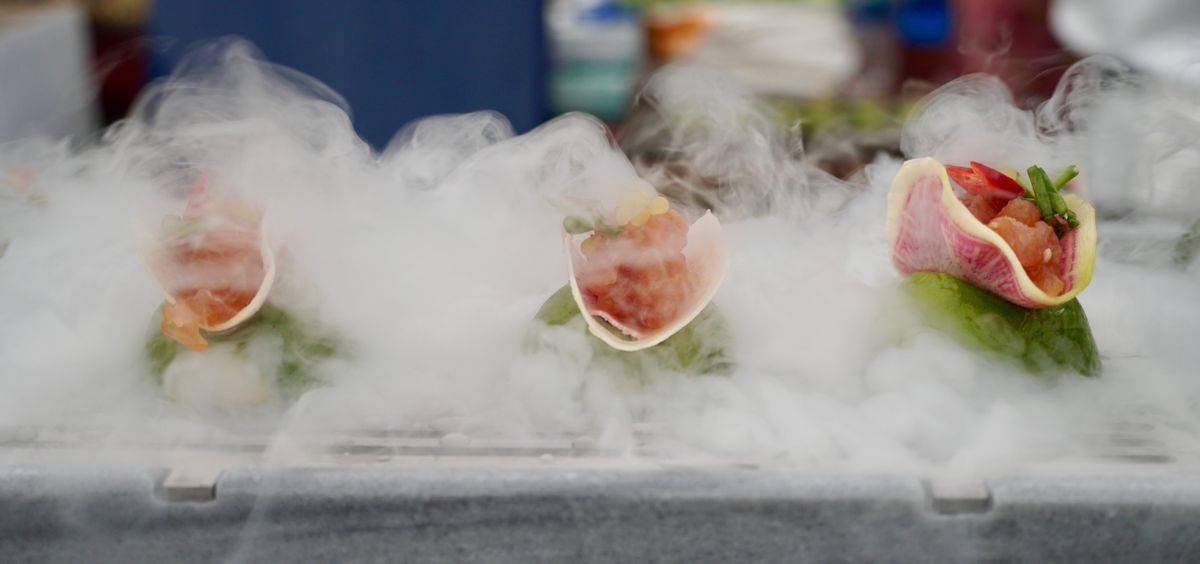 Food tours deliver experiences not found with traditional dining
When visiting a new destination for the first time, you'll most likely be drawn to the more touristy, well known areas of the city. Most first time city guides will bring you to the main town squares or downtown areas. While these areas are often well worth visiting, embarking on a food tour can be a great way to venture into other neighborhoods that you would otherwise miss. Rather than scouring Google Maps and getting lost on local transit for hours, a food tour can seamlessly take you to the best spots in a lesser known neighborhood without all of the guesswork.
Dare yourself to explore a new city on a deeper level than the most popular landmarks and blogged about restaurants. Instead of leaving your trip with just a few souvenirs to remember it by, food tours will leave you with a greater appreciation for food, travel, and human connection. Take those local flavors and ingredients that you tried on the tour and incorporate them into your own kitchen back home! Most of all, food tours can feed your voracious sense of wanderlust in a way no single restaurant visit could, and perhaps inspire your desire to go on your next trip!
Book a Walkable, Self-Guided Food Tour with TastePro
If you're excited to go on a food tour, TastePro takes the experience to a whole new level. Dine at multiple restaurants over the course of a single meal, where you'll enjoy exclusive tasting menus of signature dishes at each place. Flexible arrival times, tax and tip included with every booking and drink specials up to 60% off standard menu prices are just a few ways we transform ordinary meals into Phenomenal Dining Experiences.
Whether you're visiting a new place or exploring your own backyard, TastePro is The Best Way to Try New Restaurants. Book your walkable, self-guided food tour today at GoTastePro.com