Downtown Newhall's Main Street. Photo: City of Santa Clarita
Explore the Western Walk of the Stars
Indulge in the history of Heritage Junctionand the William S. Hart Museum

Dine like a king in Old Town Newhall



Right on the northern edge of Los Angeles lies the city of Santa Clarita, home to a quiet yet populous community surrounded by the San Gabriel and Santa Susana mountains. Just 30 miles north of Downtown LA, Santa Clarita is the perfect place to escape the urban hustle for a refreshing change of pace. The community's nostalgic, small-town feel that makes you wonder how it's still part of LA County.
Most admittedly know Santa Clarita for Six Flags Magic Mountain, but are dramatically unfamiliar with the region's deep history, rich outdoor offerings, and a thriving food scene waiting to be discovered. And conveniently, many of these offerings can be found in one of Santa Clarita's prized neighborhoods: Downtown Newhall.
Old Town Newhall is a vibrant area filled with incredible restaurants and bars, and an ambiance that transports visitors back to the good old days of the wild west while finding a way to boast modern SoCal culture all the same. This alluring pocket of town is without a doubt a favorite among locals, who use the terms Downtown Newhall and Old Town Newhall quite interchangeably.
Granted, Old Town Newhall wasn't always the charming place it is today. It took more than 20 years and the combined efforts of local businesses, volunteers and city management to give the neighborhood a complete overhaul. Today, Old Town Newhall has become an arts and events district for Santa Clarita where locals love to spend their free time. It's also a great day trip for Angelenos or anyone visiting Los Angeles.
Despite the unique dining scene, it's a place where people from all ages come together to shop at small retail stores and enjoy one of the many events through the year: classic car shows, live music, country line dancing, mechanical bull riding and many more.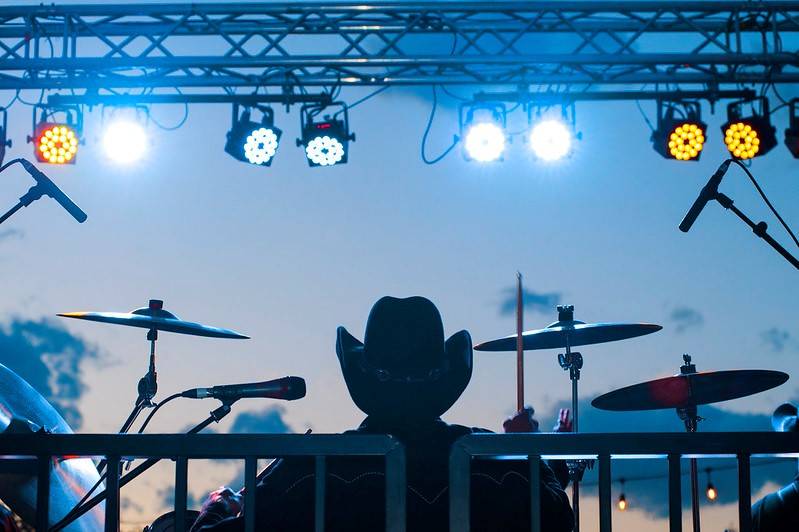 Country music in Downtown Newhall. Photo: City of Santa Clarita
Those who visit Downtown Newhall will find many references to Western classics, as this area served as prime filming location in the Golden Age of Western movie production. As an authentic Wild West Town itself, founded in the late 1800's, Old Town Newhall offers many historical landmarks and a unique tribute to the legends of Western cinema to explore. Actor William S. Hart, a Western film icon, even saddled down in Newhall and helped shape the town into what it is today. His iconic ranch, now open to the public, is a popular place to gather and enjoy the area's astounding scenery and hosts a myriad of events and concerts.
Downtown Newhall's Main Street is home to the Western Walk of the Stars, similar to the much more widely known Hollywood Walk of the Stars. Here you'll find a "saddle" for John Wayne, Dennis Weaver, William S. Hart, Melissa Gilbert and many more iconic A-listers.
Newhall continues to serve as a popular film spot for blockbuster movies. Recent Oscar-winners "Django Unchained" and "Once Upon A Time in Hollywood" were shot at the nearby Melody Ranch Studio.
The William S. Hart Museum is housed in the former home of the famed silent film cowboy star and director of hit Western movies in the early 1900s. When Mr. Hart retired, he moved into this dream home at the top of the hill in Newhall. This Spanish Colonial Revival style mansion with many original belongings exhibits an impressive collection of authentic Western memorabilia, outstanding Western artwork and mementos from early Hollywood.
Filled with history, this tour is a wonderful way to go back into the past of the Western movie industry. Besides the William S. Hart Museum, there is a herd of American bison to visit, a series of hiking trails, and a charming Western-themed gift store to explore. There are free guided tours offered year-around.
The historical Heritage Junction is a great place to discover more of Newhall's past and how important it is to the history of California. There is a lot to explore from charming houses from 1920's, the old Saugus Train Station – where business from passengers traveling between LA and San Francisco ultimately helped the city of Santa Clarita take form – as well as a museum filled with interesting artifacts. It's especially exciting for kids as they can climb into the train and ring the bell and get a feel of its operation. This place is a hidden treasure.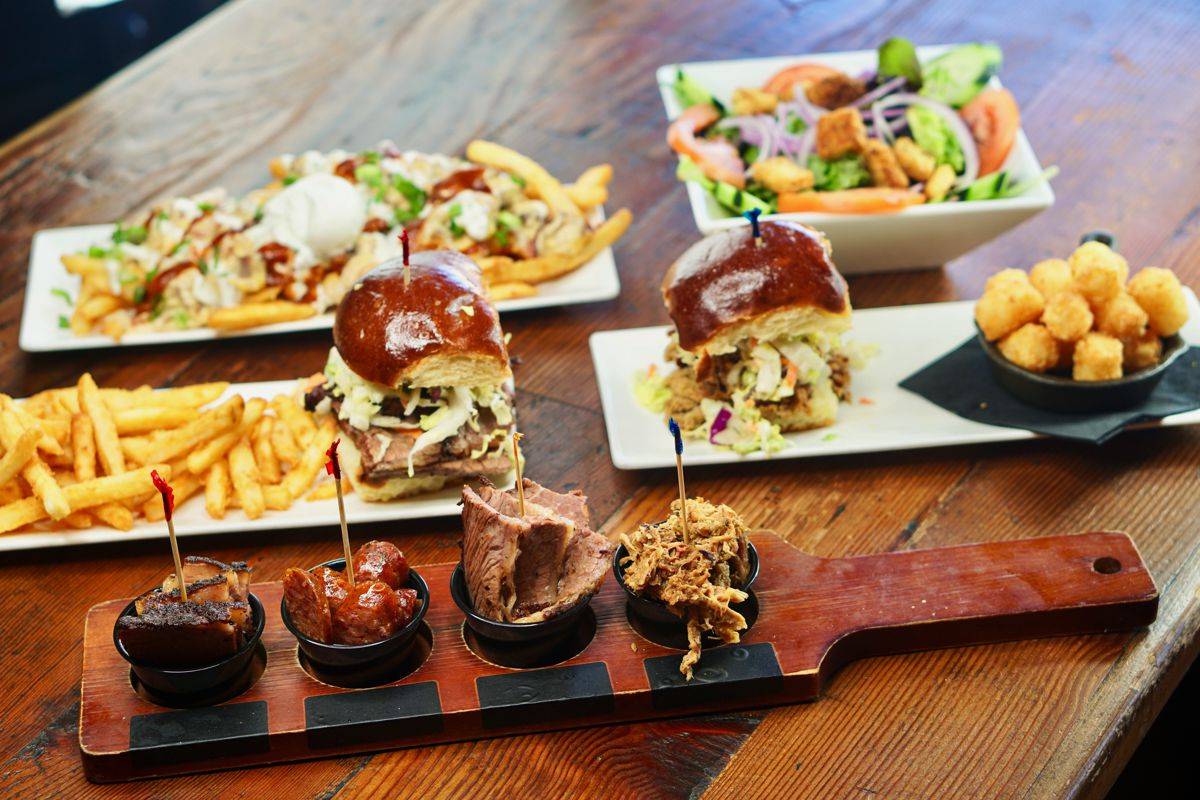 Legendary BBQ at Smokehouse on Main
Downtown Newhall restaurants aren't just keeping up with the LA food scene; at times, they're setting the bar for it. This under-the-radar culinary community delivers a myriad of options ranging from classic American comforts to modern haute cuisine, as well as a growing number of wine bars and breweries.
The Newhall dining scene artfully integrates new-age food trends with the town's old-style feel, resulting in approachable-yet-novel menus amidst a warm, quaint and homey atmosphere. Virtually every restaurant and bar along Main Street Newhall is family owned and operated, and guest can see that staff members are personally invested in making sure everyone feels welcome.
Another nice aspect of Santa Clarita is its lower cost of living, so visitors will be pleasantly surprised to discover that Newhall's restaurants are at far lower prices than what they'd find in the more widely known spots around Los Angeles. And unlike most of LA, Newhall has a comparative abundance of parking.
Dining in Old Town Newhall presents a myriad of options. Here are some of our top picks:
Newhall Refinery is the hottest gastropub in Newhall. Every item on the menu, including desserts, is created in-house from scratch, and they boast a revolving craft beer lineup. Newhall Refinery also holds a unique distinction in its service: practically every server on staff is a certified cicerone, the beer equivalent of a sommelier.
El Trocadero Mesquite Steakhouse isn't just a restaurant, it's an experience. This authentic Mexican eatery first opened its doors in Sonora, the Mexican state south of the Arizona border, more than 60 years ago. They continue to serve generations-old family recipes, legendary tortillas imported from Sonora, and a long list of signature margaritas.
A classic Southern-style eatery, Smokehouse on Main has some of the best barbecue in SoCal. From slow-smoked meats, delicious salads, homemade sauces that represent BBQ capitals across the US, and a great beer selection, you've got everything you need for hearty homestyle indulgence.
Brewery Draconum is a brother and sister-owned brewpub serving American comfort food and award-winning craft beer, brewed onsite. There is also an outside beer garden where you can play bocce ball, cornhole, and plenty of board games.
LA County's oldest bar, Eighth & Rail has been serving up drinks since 1878. Taking many forms over the past 140+ years, Eighth & Rail ditched its reputation as a dive bar and went through an extensive remodel, where a beautiful indoor bar and outdoor patio make the place one of Santa Clarita's top drinking destinations.
Double Trouble Wine Room is a blissful collaboration between two local brands, Hoi Polloi Winery and Pagter Brothers Winery. They source their fruit from Paso Robles and Santa Barbara Counties and bottle their wine just miles from the tasting room. Boasting a 'no snobs allowed' culture, Double Trouble Wine Room encourages guests to enjoy ever-changing varietals in their cozy wine room or outdoor patio.
Dine Everywhere in Downtown Newhall with TastePro
With so many options to choose from, it's hard to decide where to go. Well, how about everywhere? You can explore all of Newhall's amazing restaurants in one trip with TastePro.
Dine at multiple restaurants over the course of a single meal, where you'll enjoy exclusive tasting menus of signature dishes at each place. Flexible arrival times, tax and tip included with every booking and drink specials up to 60% off standard menu prices are just a few ways we transform ordinary meals into Phenomenal Dining Experiences.
Whether you're visiting a new place or exploring your own backyard, TastePro is The Best Way to Try New Restaurants. Book your walkable, self-guided food tour today at GoTastePro.com