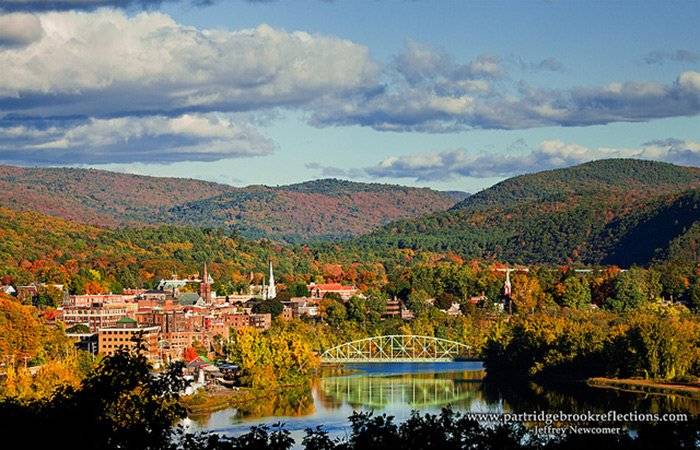 A grand view of Brattleboro, VT, nestled in the Connecticut River Valley
Right around 13,000 people live in the seemingly humble town of Brattleboro, Vermont, situated on the southern end of the state in the Connecticut River Valley. But this country collective punches far above its weight in all things food and drink. Boasting more restaurants, breweries, wineries, distilleries than most towns several times its size, Brattleboro is known far and wide for its lush farms that provide produce, fruit, meat and cheese to just about every resident and business in town.
A step back in time for many, Brattleboro is a community fueled by tradition, with countless farmers and store operators following in their parents' and grandparents' footsteps, and doing things in much the same way they were done generations ago. Using horses instead of machines to cultivate crops out of respect for the land, producing cheese only during cows' grazing periods for the finest possible product, and infusing chocolate with additives foraged just steps away are all everyday practices that give Brattleboro its homey character.
And while Brattleboro is a highlight on numerous statewide cheese trails, wine trails and beer trails, a place like this is best enjoyed with some extensive time in town. BE sure to check out some of these highlights on your visit to this illustrious food town.
Putney Mountain Winery and Spirits
The remarkable story behind Putney Mountain Winery's 20+ year history began when Co-Owner Charles Dodge was still a music professor at Dartmouth College, and his wife, Co-Owner Kate Dodge, was a lawyer. The couple was living in nearby Putney at the time, where one of their favorite indulgences was trying 'the local wine' made at small family wineries using local fruit. The two decided to give it a crack themselves, making sparkling apple wines in their own basement and sharing them with friends.
Fast forward to the present day, and Putney Mountain Winery is regionally renowned for its sweet fruit-infused wines and liqueurs, using locally-grown product from the Connecticut River Valley. Offerings range from rhubarb wine to their signature cassis and a divine chocolate liqueur, all certainly on the sweet side. PutneyMountainWinery.com
Parish Hill Creamery
Epitomizing cheese production at its finest, Parish Hill Creamery prides itself in completely natural cheese. This means using raw milk from cows grazing in nearby pastures, cultures from the finest of the herd [the herdsmen, Pete and Phil, chose Helga, Abigail, Clothilde, and Sonia for their health, their components, and their disposition], and an entirely manual process that follows deep history and tradition.
Cheesemaker Peter Dixon started continues making cheeses by hand on-site, and has shared his practices with cheese farms in Albania, Macedonia and China, as well as domestically. ParishHillCreamery.com
Wild Carrot Farm
For Jessie Kayan, farming was destiny. He owns and operates Wild Carrot Farm with his wife, where they raise over 220 varieties of vegetables, flowers, and mushrooms, as well as pigs, chickens, turkeys and draft horses. Cultivating their crops using nothing but horsepower, they've created an experience that transports their clientele through time. As a community supported agriculture (CSA) farm, Wild Carrot allows customers to pick their own produce. More than 140 families visit the farm every week for their produce. WildCarrotFarm.net
TJ Buckley's
Located in a restored 1925 Worcester Dining Car, T.J. Buckley's serves local, organic, seasonal food cooked to perfection by Chef-Owner Michael Fuller, whose value for top-quality ingredients over profitability may cause fellow operators to balk, but provides a dining experience to remember for his patrons. The menu changes daily, revolving around whatever vegetables may be in season and the meat brought in from local farms. TJBuckleysUptownDining.com
Dosa Kitchen
This humble food truck serves up far more than its humble confines otherwise give off. Owned cookbook author Leda Scheintaub and her husband, Chef Nash Patel, Dosa Kitchen represents their shared mission to eat both globally and locally. Their natural specialty is dosas, savory crepe-like dishes with spectacular sauces and fillings, as well as novel dosa waffles. Among the only South Indian food providers in the area, Dosa Kitchen takes full advantage of the region's natural provisions. The food truck itself is stationed on a farm, where they source many of their seasonal ingredients.
Scheintaub has also authored Dosa Kitchen: Recipes for India's Favorite Street Food, the country's first and [currently] only cookbook focused on this distinct dish. DosaKitchen.com
Book a Walkable, Self-Guided Food Tour with TastePro
Have we whet your appetite? How about taking food to a whole new level?
Dine at multiple restaurants over the course of a single meal, where you'll enjoy exclusive tasting menus of signature dishes at each place. Flexible arrival times, tax and tip included with every booking and drink specials up to 60% off standard menu prices are just a few ways we transform ordinary meals into Phenomenal Dining Experiences.
Whether you're visiting a new place or exploring your own backyard, TastePro is The Best Way to Try New Restaurants. Book your walkable, self-guided food tour today at GoTastePro.com