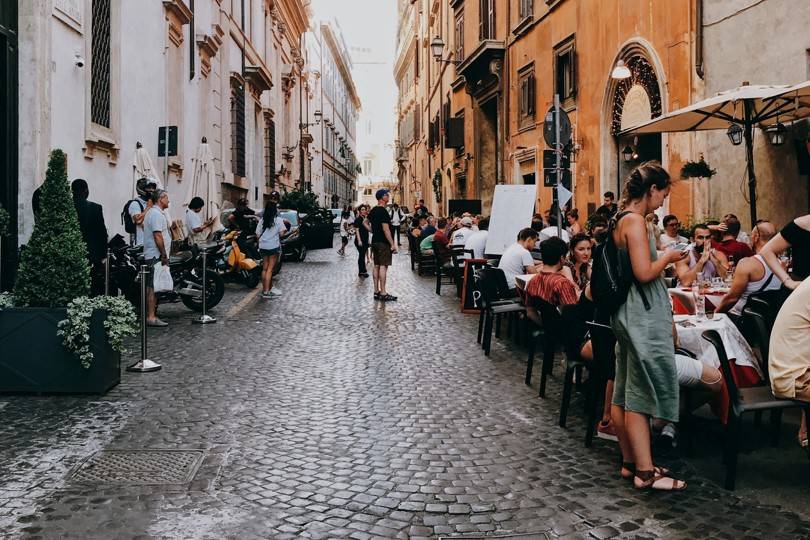 Photo: Jennie Teoh on Unsplash
Tasteful exterior decor will woo in customers looking for nice ambiance

Seat customers on patios or near windows to make your restaurant look more full and appealing to passers-by
Let your experience speak for itself without pressuring prospective guests
If your restaurant is located on a busy thoroughfare, chances are you've got some competition and want to stand out. If your restaurant is just off the main drag, you want to give people a reason to venture your way. If your restaurant is relatively isolated, you want to spark intrigue among passers-by, motivating them to pay you a visit there and then or down the road.
In each case, these potential guests will judge a book by its cover, and you'll want to put your best foot forward to bring them in.
While good food may be the core of your business, your restaurant's appearance is a critical marketing tool, often serving as a patron's first impression. Think about the customer journey in reverse: before they sit down and order from the menu, they're likely looking at the menu at the host booth or [better yet] posted outside your front door. But before that, they need to walk up to your restaurant in the first place.
Granted, we're not taking into account the quintessential importance of your online presence…that's a different conversation altogether. Nevertheless, there are many occasions where people are looking to simply stumble upon something fun, and that's where these tactics come in.
If you have a patio, lining it with tasteful, decorative lights is the lowest-hanging fruit you could ask for. You've likely encountered many establishments with 'fairy lights,' which string up along patio walls or overhangs in the same way that Christmas lights can wrap around a home. These evergreen additions are surefire ways to elevate your ambiance and your allure from the outside world.
Fairy lights, while named rather informally, can easily fit the mood at casual and higher-end restaurants alike. They also fulfill the all-important requirement of not being too overbearing or getting in people's eyes. If you decide to add or adjust lighting, keep in mind that it should be to supplement the core lighting that physically allows people to see each other and not to replace it. Making your restaurant too ark or bright for the sake of aesthetics would be a step in the opposite direction.
Greeters should remain inside
In many cultures, restaurant owners and staff will stand outside their front door, encouraging guests to come in. While hospitable, this practice is not encouraged in the US. American patrons largely prefer to approach a restaurant on their own, read over the menu and perhaps have a peak at the ambiance and maybe a dish or two if served close-by. They way to make their dining decision without the restaurant intervening.
If you've been brought up to lure in guests personally, your efforts may not produce positive results in the American market. The best thing you can do is let your ambiance and menu speak for itself. Definitely post a menu outside your front door, so potential guest can learn as many details as possible before 'making the leap' and walking inside.
Crowds encourage more crowds
While most patrons prefer not to wait for a table, a large percentage is also hesitant to walk into an empty restaurant. The situation is a bit of a catch 22, in that you must have people in order to bring in more people. So how do you get that 'seed crowd' through your doors in the first place?
Happy hours and other time-specific specials are a natural answer, and certainly serve to attract an early bird audience that 1) maximizes your output and 2) creates value in the eyes of prospective guests. The mentality of 'If they like it, so will I,' will ring true and benefit you greatly at the end of the day.
Music can work if on brand
As long as your community permits it, projecting music to the outside world will attract movement your way. Pre-recorded music will heighten the mood, and live performances will have a much more pronounced effect. You'll create a vibe that your restaurant is 'where the action is,' which should be well-received by many potential guests.
Music is definitely not a solution for all restaurants, however. As is the case with any of the above suggestions, look at your core customer and their behaviors. The last thing you'd want is to upset your loyalists. Survey your frequent guests with any changes you'd like to make before you make them. Their opinion may not be the end-all-be-all, but can prevent you from making any changes that would be a step in the opposite direction.
Boost your bottom line with TastePro
TastePro is a free service that brings new customers into restaurants. Locals and travelers alike use TastePro to book walkable, self-guided food tours, where they dine at multiple restaurants over the course of a single meal. Designed by restaurant owners to be quick and simple with no apps or hardware needed, TastePro is the perfect way to fill empty seats and get discovered.
Find out more at GoTastePro.com